* I received a complementary ebook of I Love You Too, by Ziggy Marley, from the publisher Akashic Books,  in exchange for my honest review.  All opinions are my own.
Synopsis from the Publisher
A beautifully illustrated, multicultural children's picture book based on one of Ziggy Marley's most beloved songs, "I Love You Too." The book explores a child's relationship with parents, nature, and the unstoppable force of love. This is Ziggy's first book, though his foray into children's music is extensive and very well known. He is the singer of "Believe in Yourself," the popular theme song of the hit TV show Arthur.
About this book, Ziggy says, "One day I was in my kitchen making breakfast with my then three-year-old daughter Judah. She looked at me and said, 'I love you.' I spontaneously replied to her, 'I love you too.' From that came the song and now the book based on the lyrics. I hope you share and enjoy this with your loved ones as I have with mine."
Review
I (no pun intended) LOVED this book, even independent of the incomparable Ziggy Marley's music.  First of all, the illustrations are simply stunning.  Here are a few examples:
I love the bright, vivid colors and textures to the illustrations…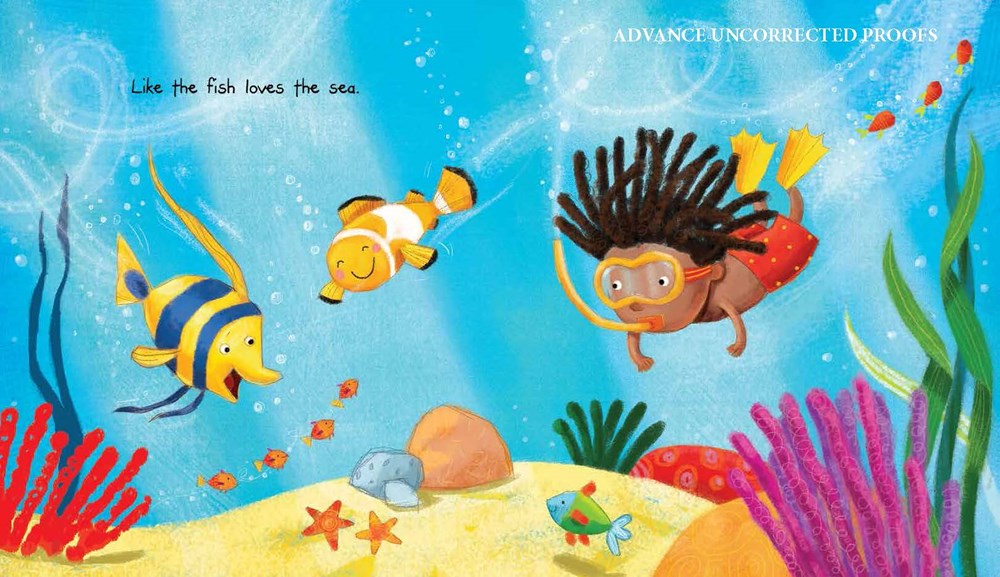 But even more than the gorgeous illustrations is the wonderful message that this book conveys – that families and friends will always love each other.  My favorite part of I Love You Too explores the idea that "No matter how things change, this one thing will remain…".  It features illustrations of an older mom with a grown up daughter and her child.  Although this is obviously a book that is designed for younger children, but I think this is still a book, and a message, that would impress upon my older children.  I will definitely be picking up a hard cover copy for each of them as gifts!  I highly recommend this book to anyone who wants to pass on the "I Love  You Too" message!
Buy
Buy I Love You Too on Amazon
 for $12.93 in Hardcover
Buy I Love You Too on Kindle